Media and Press Coverages
Express Food & Hospitality – February 2020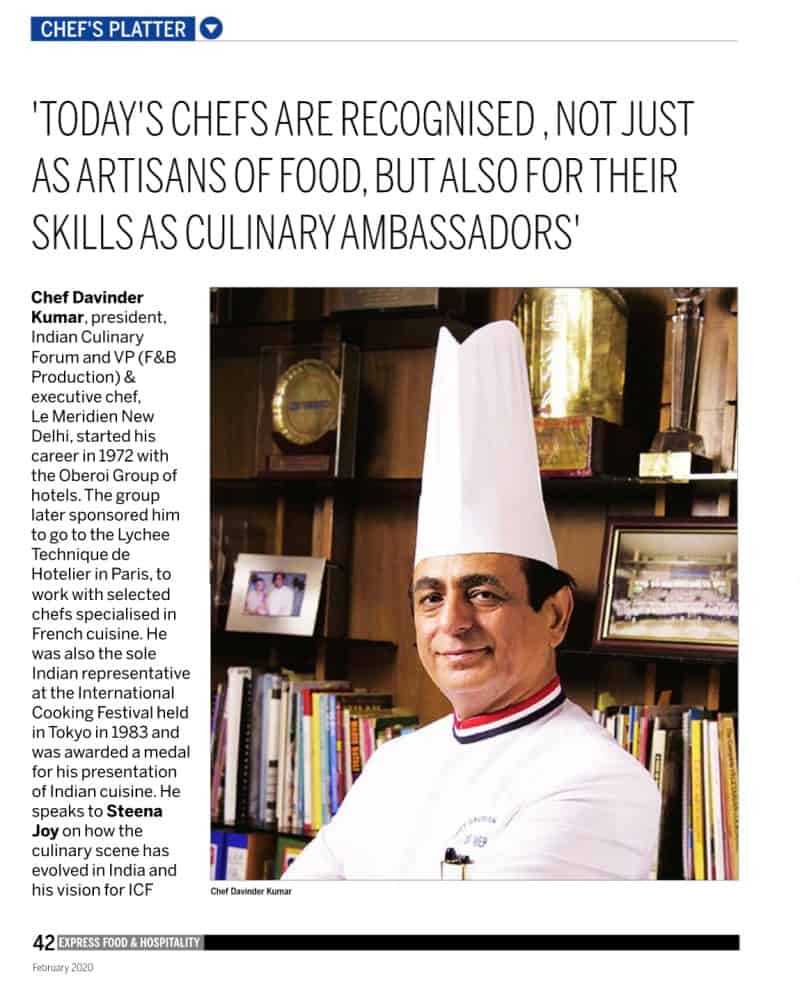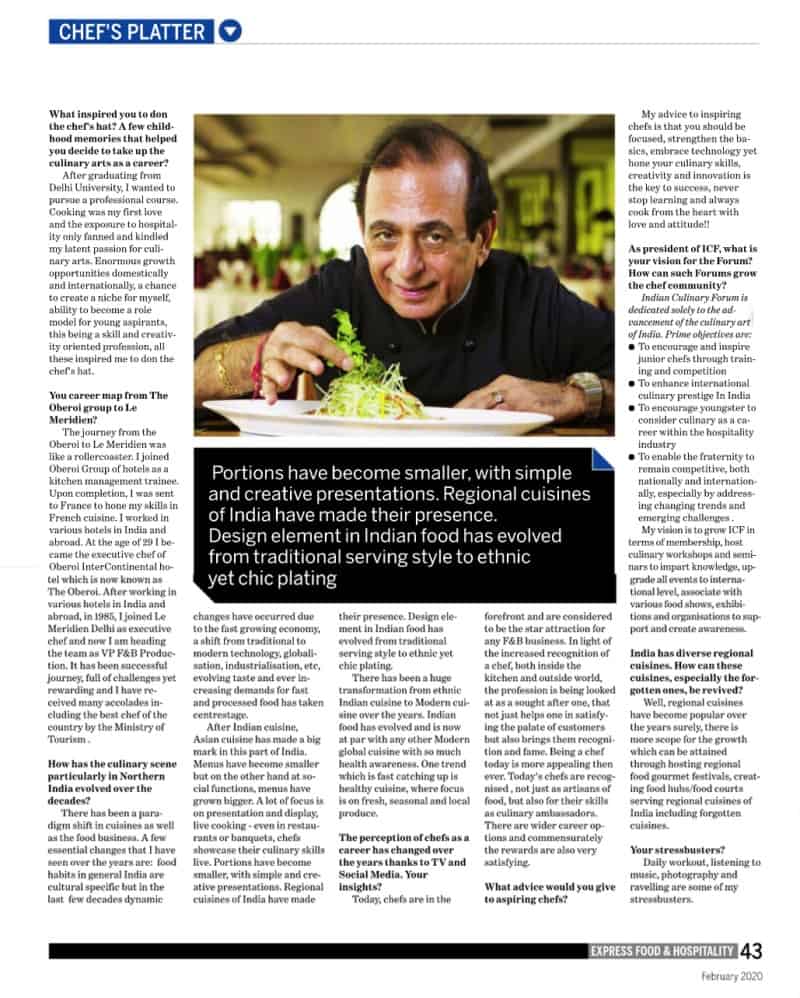 What Media has to say…
"I FOUND EVERYTHING YOU MAKE DELICIOUSLY TASTY" – KHUSWANT SINGH
"DAVINDER KUMAR IS ONE OF THE DOYENS OF HIS PROFESSION" – VIR SINGHVI
"DAVINDER KUMAR IS AN UNUSUAL CULINARY ARTIST." – DR. PUSHPESH PANT
I have had the pleasure of knowing Chef Davinder Kumar for more than a couple of decades. He is an unusual culinary artist.  Gifted & technically accomplished the man is modest to a fault. He like to let its work communicate and prefer to stay in the background. Quite a contrast from some of his peers who act like temperamental divas and carry self promotion to embarrassing extremes.
Davinder Kumar has in past written books on kebabs and breads that are comprehensive and bear testimony to his unmatched knowledge and exceptional talent to  simplify complex recipes without dumping down. His latest book on salads will delight his fans and pleasantly surprise new readers. 
The word salads evokes verdant images: refreshing green leaves, crisp cool, crunchy colorful vegetables cut and presented in delightfully attractive shapes topped with time tested or exotic dressings and tempting garnishes. That's not all. There are salads which prefer to play around meats, cheese and mushrooms. A salad may be served as an appetizer, accompaniment or even a main course. Salads days are the year of innocence and inexperience. The best  art of our youth.
Davinder Kumar has compiled a remarkable book encompassing countless salads classic as well as seldom-encountered specialties that can add resplendent luster to any spread. He has in his inimitable way given step by step instruction that can enable the novice in the kitchen to pass the salad test with flying colors. He had added a list of essential equipments that make a book a joy to read and use. Chef hasn't forgotten dressing either. For us the most satisfying this is that he has not given a step motherly treatment to a desi avatar of salads – raita and kachumbar. 
The book is embellished with beautifully mouth watering photographs ad is attractively produced. The writer and publisher both deserve kudos. The writer and publisher both deserve kudos. 
Dr. Pushpesh Pant
Foreword for "Four Season's Salads" book authored by Chef Davinder Kumar.