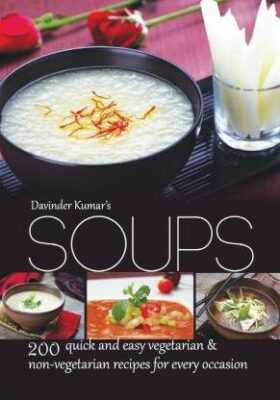 Order will dispatch in 7 days.
Kindly check and enter the shipping address to ensure timely delivery of the product.
The word derived from the French word 'soupe' is used to describe not just a liquid preparation but various ingredients added to broth. It is also a derivation of the word "supper".
According to Beethoven, "only the pure in heart can make a soup". This comment certainly goes true with my feeling as well. It really is something that comes from heart & the soul & requires certainly positive attitude. Economy is also one of its virtues because by using seasonal produce soup is an inexpensive dish but full of nutrients.
ASIN ‏ : ‎

8182902932

Publisher ‏ : ‎

Shubhi Publications (1 January 2012)

Language ‏ : ‎

English

ISBN-10 ‏ : ‎

9788182902930

ISBN-13 ‏ : ‎

978-8182902930

Item Weight ‏ : ‎

600 g

Dimensions ‏ : ‎

20 x 14 x 4 cm